How did I get an idea to create Birth in Brno space?
I´ve been working with expats preparing for birth for some years now.
After working with my first clients and couples in English, I realized, that the conditions for having a baby here can be still somewhat confusing if you don´t know where to look for information.
I was in contact with many foreigners here. With individual prenatal preparation, supportive meetings, that I started organizing for pregnant ladies and prenatal course that I and my colleague Martina teach. And as more and more time has passed, I started having an idea.
It was very unclear at first, but I knew I wanted to connect foreign mothers and parents here in Brno more. Give them more opportunities to get to know each other and share their experiences, connect and find friendships and support in each other. Learn about parenthood and having a baby here in Brno more easily.
And it was actually during the quarantine times in March this year that the situation pushed me a little bit to create something new. So we had to cancel 2 of our prenatal classes. And I knew there are people expecting a baby, pandemic or not :). So I came up with this website and online prenatal class.
I didn´t expect that it will feel so good to put all the information that I am usually sharing with each of my clients in one place. And since there was no more space on my original website (and I kinda enjoy creating new websites :D)
I created Birth in Brno.
The title was in my head for a long time now, but I really couldn´t think of a way to use it… until now. Thank you quarantine!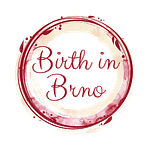 I have plans for
writing a blog post now and then (what would you like to read about?)
continuing with support meetings for mothers (and fathers too! Why did you stop joining us? 🙂
building a family-friendly community (wouldn´t you like to get to know families living in your neighbourhood?)
creating space with clear, easy to navigate information that you might need (did you see the Forums tab? Check it out and leave a question 😉
It can be a slow process, I know.
But I tend to get very excited and creative when I get a new idea…
So please, stay with me. We´ll figure something out and we´ll grow together!